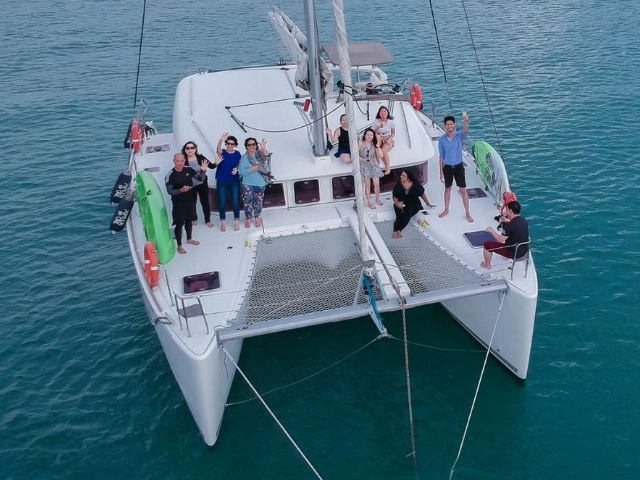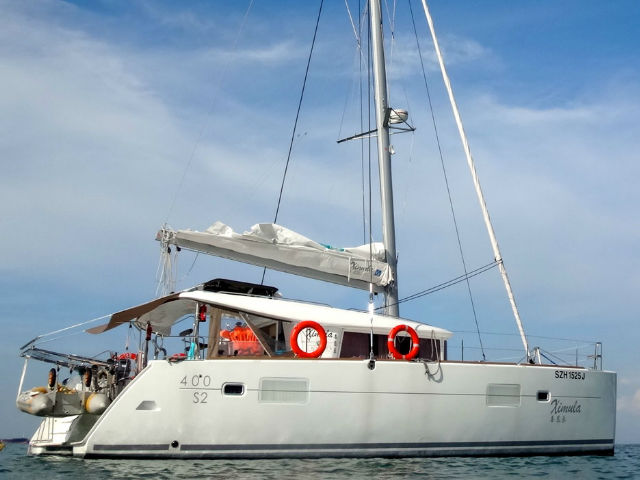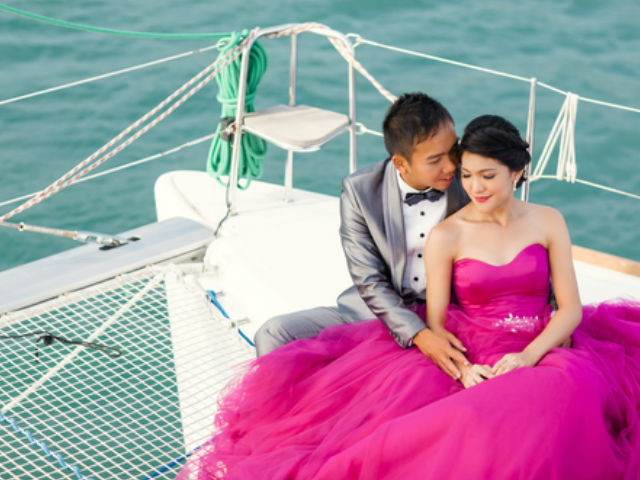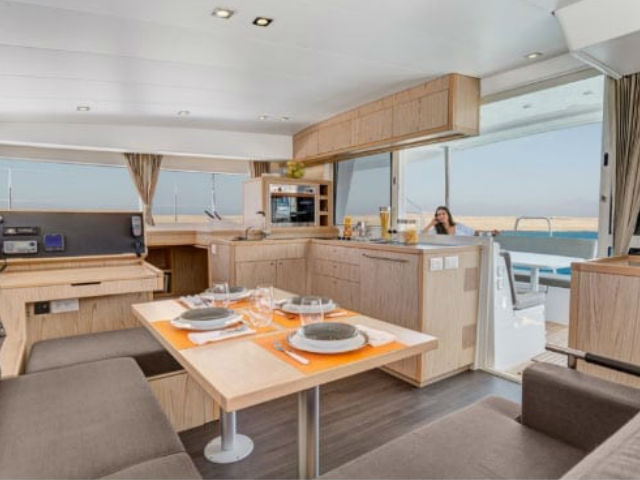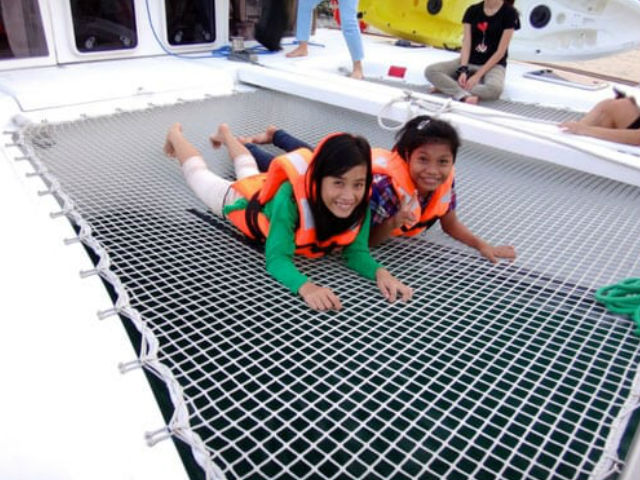 Ximula
40ft Lagoon 400 Sailing Catamaran | 18 Guests Max | One15 Marina (Sentosa Cove)
DESCRIPTION
Ximula Sail
Ximula Sail is an elegant and spacious Lagoon 400S2 sailing catamaran.
Famous for its elegant and sensible design, the Lagoon 400S2 sailing catamaran delivers extra comfort and space and is a knot higher than most other similar-sized catamarans.
With a spacious interior and a wide sun deck, Ximula Sail can comfortably accommodate up to 18 guests, providing a perfect setting for a relaxing chill out with family and friends.
The large vertical hull windows allow natural light to illuminate and offer a 360 view from the indoor saloon.
Outside, the open front deck features our favourite spot – guests can sit or lie on the "trampoline" and feel the cool, refreshing sea breeze while sailing. Alternatively, guests can lazed on the upper deck and enjoy the breathtaking views of Singapore City Skyline and surrounding islands.
Contact Singapore Yacht Charter via Whatsapp or Enquiry Form if you need to find out more information.
Amenities:
Double-seater Kayak
Standup Paddle
Floating mat
4 Hours Weekday Cruise
(Mon~Thur)
Up to 10 pax.
Free use of Kayak, Standup Paddle, Floating Mat and city skyline cruise.
Free to bring your own food and drinks onboard with no extra charge.
4 Hours Weekend Cruise
(Fri~Sun)
Up to 10 pax.
Free use of Kayak, Standup Paddle, Floating Mat and city skyline cruise.
Free to bring your own food and drinks onboard with no extra charge.
ITINERARY
4hrs Itinerary:
Meet at swimming pool of ONE 15 Marina Club, 15min before the trip.
Depart from One15 Marina and cruise around the Southern Islands ( Sisters' Islands, Kusu Island, and St. John's Island ) ( approx. 1 hour – subject to weather & time permits )
Anchoring at Lazarus Beach / St. John's bay for swimming, kayaking, etc. ( approx. 2 hours). ( We have 1 double kayak, 1 stand-up paddle board and 1 giant floating water mat available for your use.)
Cruising to the Marina Bay area for a view of the city skyline on the way back to the marina ( approx. 1 hour
subject to weather & time permits )
2D1N Itinerary:
Day 1:
10am Depart from ONE 15 Marina Club after a safety briefing
Navigate between commercial ships anchored in our Eastern Anchorage towards Pulau Ubin in the north of
Singapore + lunch on board (4-5 hours of sailing)
Option to stop by a floating fish farm
Anchor off Pulau Ubin, a mangrove island highly popular for a day's getaway, for a unique nature exploration and a beautiful sunset before dinner on board
Option to stay overnight at Pulau Ubin or sail towards Seletar Island (1 hour)
Day 2:
Explore the nature and waters around Seletar Island, a hidden gem in the northern coast of Singapore highly popular among wakeboarder
12nn Depart from Seletar Island + lunch on board
Set sail back towards ONE 15 Marina Club (5-6 hours)
BOAT RULES
Party poppers, flower pedal, confetti, balloons, heavy duty tapes, scotch tapes, nails, staples are not allowed onboard.
If bringing young children, kindly keep them under tight watch for their own safety.
Free ice up to 18kg will be provided. Ice cooler of 168-cans capacity is also available onboard.
You are going to be outside on the water for several hours. The key thing is sun protection, so bring a hat and sunglasses for day charters. You might also want to go swimming during the day, so bring your swimming costumes and gear, towels and a change of clothes if necessary. Yachting is fun and laid back experience – so formal attires are not recommended in the warm and humid weather.
Due to safety – No water activity or swimming allowed from 7:00pm.
Strictly NO SMOKING on board at all times.
The charterer is liable for any loss of or damage (if any) to the yacht and its equipment that is attributed to the acts and/or omissions of him/her or his/her guests during the charter period. In such events, the charterer is required to compensate for the cost or repair of the yacht and its equipment including, but not limited to:

2-Man Kayak: S$800/kayak
Stand-Up Paddle (SUP) Boards: S$600/board
Paddles for Kayaks/SUP Boards: S$80/paddle
Snorkel Masks: S$50/mask

No need to bring passport.
No pets allowed.
BAD WEATHER POLICY
In case of rain before the charter, trip may be postponed for up to 30 minutes if possible; If bad weather persists, guests will be able to reschedule at their convenience at the sole discretion of the skipper; no refunds for cancellations. If it's light rain we will still go ahead with the charter.
Kindly arrive at the marina regardless of weather condition/forecast unless informed otherwise.
CANCELLATION POLICY
As we would be holding the slot for you and turning down other potential customers, you won't be able to cancel after you book.
Reschedule Policy
For changes made 14 days or more before charter day, the booking can be rescheduled to another date within 2 months from original booking.
For changes made less than 14 days before charter day, 100% charter fee will be charged.
Postponement is allowed subjected to terms & conditions and availability.
Changes to date and/or time after booking will incur reschedule fee.